1. JACK-O'-LANTERN
2. JACK-IN-THE-BOX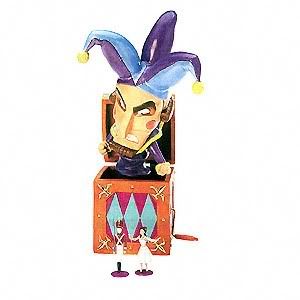 La siguiente fue más breve, todos tomaríamos una caja y quien se llevara un susto al ver saltar un muñeco se llevaría un premio.




3. JADE-D

http://es.wikipedia.org/wiki/Jade
Dicho premio consistía en una piedra de Jade colgada en una cadena.


5. JIGSAW

http://worldcreep.blogspot.com/2008/10/jigsaw-killer.html
Luego siguieron las pelis de terror.

6. JOKER / JESTER

Despues nos pusimos a contar chistes y otras menzadas (historias de terror no son menzadas!!) alrededor de una fogata.
7. JUMP-START

8. JUST THE SAME

Gabriel y Fer estaban en la sala de entretenimiento. Ya todos se habían retirado a sus cuartos a superar sus resacas en privado, pero Darla seguía con tanta energía como al principio… y todo gracias a que su actual cuerpo se mantuvo dormido por tanto tiempo.

Darla había obligado a Gabriel a despertarse y a formar parte de sus juegos. Al principio participó de buena gana, pero ahora solo quería dormir, pero eso era un poco difícil con los berridos del insecto y la música de un karaoke.

… Monday you can hold your head
Tuesday Wednesday stay in bed
Or Thursday watch the walls instead
It's Friday I'm in love


Fer se mantuvo firme al lado de ambos y ahora también andaba cayéndose de sueño, pero en su cabeza corría una especie de competencia y no quería dormirse antes que Gabriel.

Saturday wait
And Sunday always comes too late
But Friday never hesitate...


Darla, que ya había vuelto a su papel de las cosas se hacen como yo digo, levantó a Gabriel de su posición casi-acostado y le dio un micrófono que el otro apenas podia sostener.

Dressed up to the eyes
It's a wonderful surprise
To see your shoes and your spirits rise
Throwing out your frown
And just smiling at the sound
And as sleek as a shriek
Spinning round and round
Always take a big bite
It's such a gorgeous sight
To see you eat in the middle of the night
You can never get enough
Enough of this stuff
It's Friday
I'm in love.

---
Darla - La Mosca Tete.
Característica principal: Anfitriona del Cuarto Compartido.

Ferguson Fernandi Fernandez
Hobbies: Escuchar música

Gabriel Raven
Carta representativa: El Mago